That was no mere dream.
After awaking from what seemed like a nightmare, Madoka Kaname begins her morning like any other. Surrounded by a loving family, she had nothing out of the ordinary going on. Rushing out the door for school, she's shortly joined by her two best friends, Hitomi Shizuki and Sayaka Miki. Just like normal, they travel together with smiles and laughter. Upon arriving at school, a surprise transfer student stood before their class. While this was a little strange, Madoka could hardly believe her eyes. The girl from her dream, Homura Akemi, was right in front of her. On the surface, Homura came off as a cool beauty. Her performance on her first day amazed all her fellow peers. One could claim she was far too perfect at everything. Nonetheless, Madoka would soon learn a different side of Homura. During a break between classes, Homura was able to pull Madoka aside. Their short chat included a most strange question. Being as direct as she could possibly be, Homura asked Madoka if she enjoyed her current life. With little hesitation, Madoka told her the truth. It's a life she loves dearly. Still, before walking away, Homura left her with a warning. If she truly enjoys her current life, then she should never become someone she isn't.
With school out for the day, Madoka joined her friends for a quick stop at the mall. Although their fun was cut short due to Hitomi leaving early, Madoka and Sayaka stayed a while longer. At the music store, a strange voice begun to call out to Madoka for help. Unable to ignore their cries, Madoka tracked down the individual responsible for the voice in her head. Unfortunately, this is where trouble began. What appeared to be a wounded animal was the one that called out to her, and its assailant was none other than Homura. Now, this was something Homura never wanted Madoka to see. This had nothing to do with her, after all. Regardless, Sayaka's sudden arrival threw another wrench into her plan. As Madoka and Sayaka attempted to flee, another unexpected event occurred. The surrounding space began to shift into a otherworldly nightmare. Though they were not able to comprehend what was going on before them, they were saved before the worst could happen. Thankful for saving Kyuubey, Mami Tomoe quickly chased off the witch. As the world around them restored itself, Homura was there waiting. Unfortunately for her, Mami won't let her lay a finger on Kyuubey. Given the option of fight or flight, Homura bowed out for the evening. After being healed by Mami, Kyuubey had an important announcement. With a smile on its face, it offered a contract to Madoka and Sayaka. If they accept, they will become magical girls.
I know I said no new titles and only spring 2020 shows this season. However, SAO being pushed back to summer really put the seasonal schedule in an awkward spot. We're now late on new shows, and I'm unsure if I have the strength to play the catch-up game. As such, Madoka shall be holding down the Saturday spot this season. Furthermore, if you haven't seen this show yet, then I highly recommend it. There are few titles that can claim to be a game changer. It might not be the prettiest at times, but it'll grip you til the very end. This is just the start of much more to come, too. Anyhow, will her warning be taken to heart? Enjoy the last normal day!
OP:
Episode 1:
ED: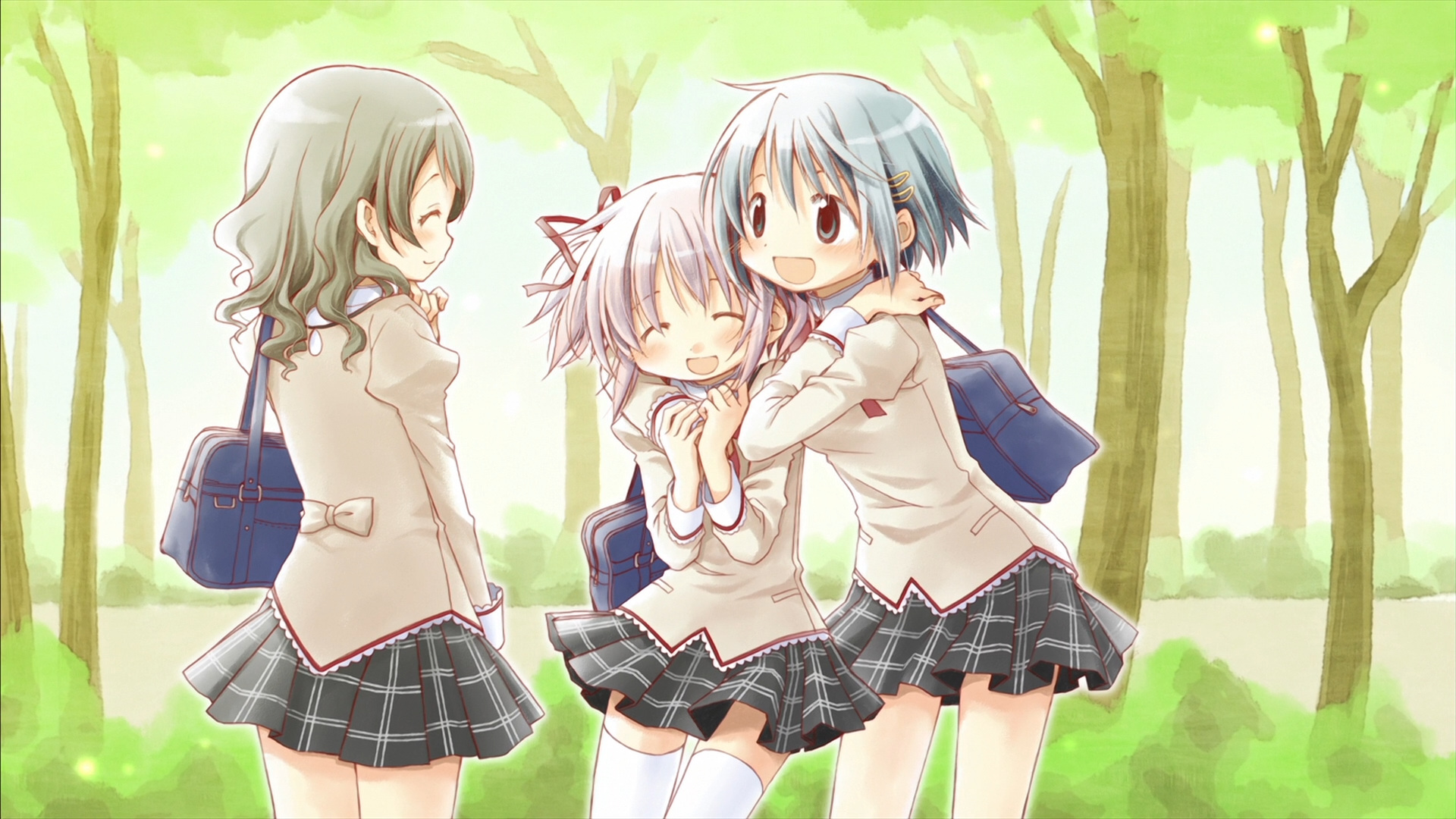 End Card: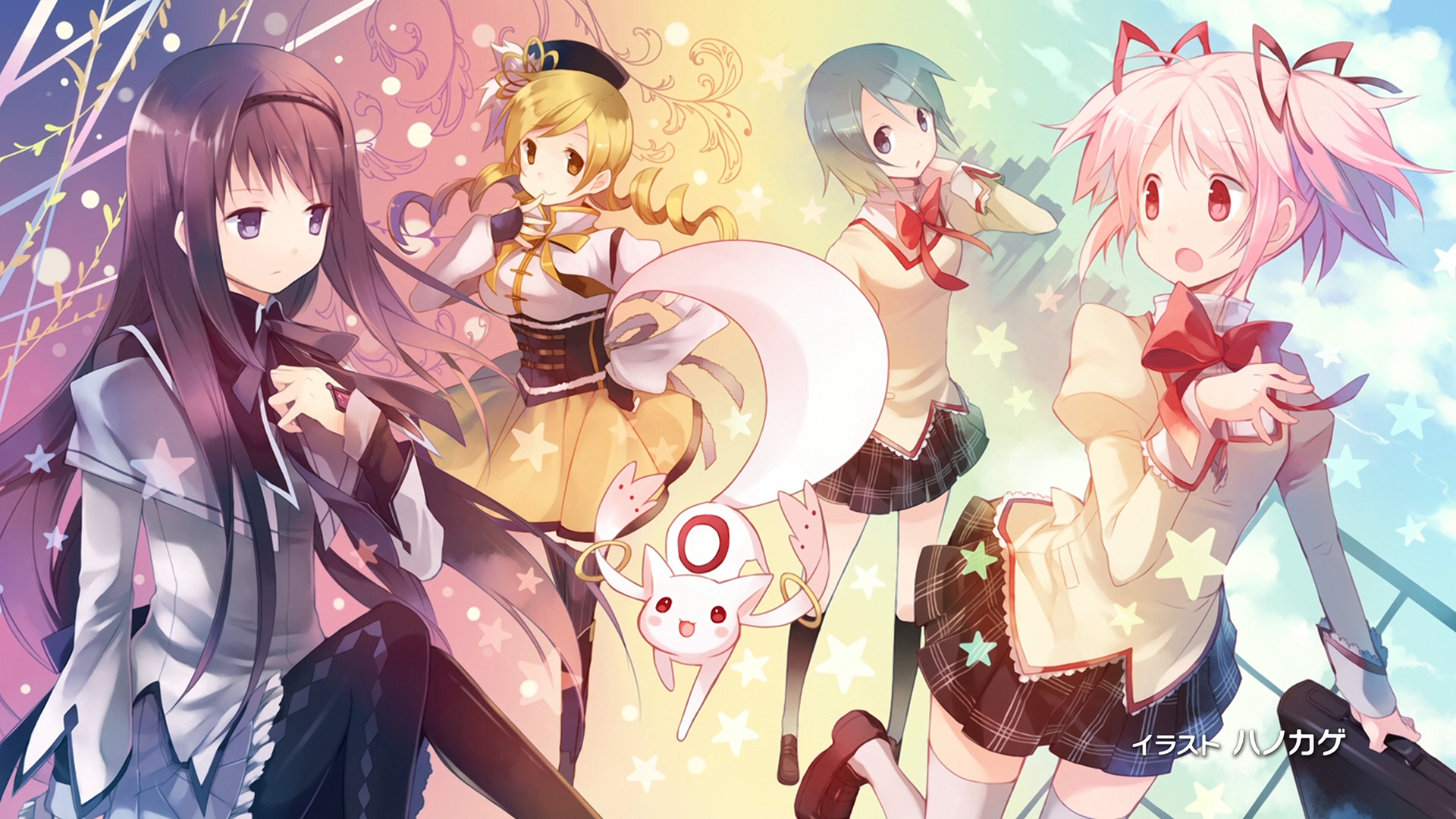 WebMs:
Click here for the 1st webm collection.
We've only just begun our descent into despair. Stay tuned for plenty more!